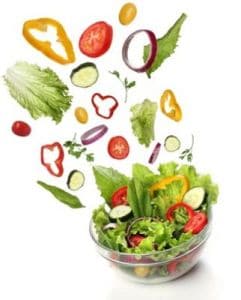 The myths surrounding eating healthy are abundant. Many people think that eating healthy means spending a ton of money, needing to shop in specialty food stores and learning to cook new ways. This is simply not true! There are numerous ways you can eat healthy, stay on a budget and have the time to cook for you and your family.Eating healthy simply means choosing whole foods over processed food, ensuring you are receiving the appropriate nutrients at each meal and learning which foods to avoid.
Myth #1 – Healthy Foods Cost Too Much
Many people think that eating healthy cannot fit into their weekly food budget. There are many ways you can stretch your dollars and still eat healthy. Meal planning, buying locally, and being a savvy shopper can help you stay within your food budget. Try the tips below to shop smartly and eat wisely-
Buy in-season produce and freeze it. In-Season produce is often sold at a fraction of the price compared to off-season.
Include plenty of whole grains and beans into your menus. These items offer an inexpensive way to bulk up your meal.
Plan your menu based on sales. Before heading to the grocery store, check out the sales paper.
Visit your local farmer's market. Farmer's markets help you buy fresh, locally grown produce at a fraction of the price of most food marketplaces. Many farmers will slash prices at the end of the day, so visit the farmers market an hour or so before closing.
Myth #2 – Healthy Foods Cannot Be Found at Your Local Marketplace
Your local marketplace is filled with items that can help you eat healthier. Peruse the aisles looking for fresh or frozen produce, organic meats wild salmon and whole grain breads. Avoid processed foods, prepared meals and junk foods while shopping.
Myth #3 – It Takes too Much Time to Cook Healthy Foods
Cooking healthy does not mean hours spent in the kitchen. Steaming fresh vegetables takes only a few minutes. Rice can be cooked in 20 minutes in a rice cooker. An example of a simple dinner is a baked chicken breast (25 minutes), a side of rice (20 minutes), a salad or steamed vegetables (10 minutes). This meal can be ready to be served in less than 30 minutes.
Myth #4 – Frozen Vegetables are not as Healthy as Fresh Vegetables
Freezing vegetables locks in their freshness and nutrients. Frozen vegetables are the perfect choice for those looking to eat healthy. In fact, top chefs often rely on frozen vegetables in the off-season because they are more flavorful and wholesome than canned or off-season vegetables.
Myth #5 – You Must Eat Meat Everyday
Not every meal must contain meat. Try cooking a homemade batch of chili filled with black beans, red kidney beans and white navy beans. The meal will be filling and just as delicious as traditional chili.
There are many wonderful alternatives to meat when it comes to making sure you get enough protein. Tofu, lentils, nuts and a variety of vegetables have protein, allowing you to serve a wholesome meatless meal. Talk to a health coach for guidance on eating healthy.
Everyone has heard how it is important to eat a low fat meal; however, not all fats are bad. Fats help to provide nutrition and energy to the body. Fish is filled with omega-3 fatty acids that help promote brain and heart health. Other food items rich in omega-3 fatty acids include avocados, sunflower seeds, olive oil, nuts and beans.  All of these contain fats needed to keep the body healthy.
Health Coaches can help you get on the pathway to wellness and improve your quality of life. Interested in eating healthier and loosing pounds naturally.  Call our holistic health coach at (571)529-6699 and see how she can help you on your journey to health and wellness.
We serve Washington DC, Northern Virginia including Fairfax, Loudon and Alexandria counties, Maryland and surrounding areas.