The Epstein-Barr virus is a member of the herpes family and is considered one of the most common viruses on the planet. Epstein-Barr is found all over the world, and most people will contract the virus sometime during their life. The National Institutes of Health report that approximately 95 percent of the population has been infected with the virus.
Most people become infected with the virus during infancy or early childhood.  The Epstein-Barr virus is typically spread through bodily fluids like saliva and causes a number of illnesses, including infectious mononucleosis. Unlike other viruses that are destroyed by the immune system, the Epstein-Barr virus can remain dormant for years, and then suddenly reactivate.
Symptoms of Epstein-Barr Virus Infection
When you have been infected by the Epstein-Barr virus, you may experience symptoms similar to strep throat or the flu, which includes fever, sore throat, body aches, skin rash, enlarged spleen, headache, swollen tonsils, swollen lymph nodes, and fatigue. Typically, the Epstein-Barr infection resolves itself; however, some individuals can experience more serious symptoms that affect their nervous system, brain, and spinal cord.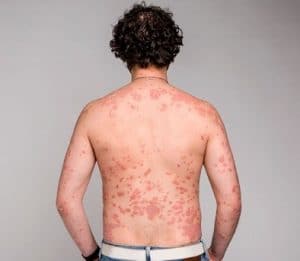 Once you have been exposed to the Epstein-Barr virus, it remains inactive in your body for the rest of your life. Certain individuals will experience a reactivation of the virus, which typically does not cause any symptoms; however, certain individuals can experience a host of issues due to Epstein-Barr reactivation. When your immune system is healthy, it creates specialized immune cells, including T cells and CD4 cells that keep the Epstein-Barr virus dormant. If your immune system becomes compromised, it can allow the virus to reactivate. Oftentimes, individuals with weakened immune systems will experience the following symptoms.
Abdominal pain caused by an enlarged spleen
Autoimmune disorders, including multiple sclerosis, Hashimoto's thyroiditis, etc.
Cancer, including lymphoma
Chronic muscle pain
Fatigue
Headaches
Parkinson's Disease
Rash
Swollen lymph nodes
Tinnitus (ringing in your ears)
Causes of Reactivation of Epstein-Barr Virus
When your immune system is not functioning properly, the risk of Epstein-Barr viral reactivation substantially increases. There are many reasons why your immune system may not be functioning properly. Let's take a look at these and what you can do to improve your immunity and decrease the risk of a reactivation of the Epstein-Barr virus.
Functional Medicine Approach to Epstein-Barr Reactivation
Epstein-Barr viral reactivation can be confirmed using a blood test that will look for specific antibodies. Unfortunately, the majority of adults have Epstein-Barr antibodies due to a past infection. An integrative medical provider may run a variety of tests to determine whether or not the antibodies are elevated. If the antibodies test confirms an elevation, this is indicative of a reactivation of the Epstein-Barr virus.
There is no cure for the Epstein-Barr virus; however, integrative medicine can help return the virus to its dormant state. Here are some ways functional medicine addresses Epstein-Barr reactivation.
How Can We Help?
When it comes to treating reactivated Epstein-Barr, the first thing you must do is to stop the virus from replicating. This can be accomplished by enhancing the immune system through nutritional supplementation, a healthy diet, exercise, and rest. Finally, probiotic supplementation along with stress relief will reduce inflammation. Our integrative providers can create a personalized treatment plan for overcoming fatigue and other symptoms that accompany Epstein Barr Reactivation.